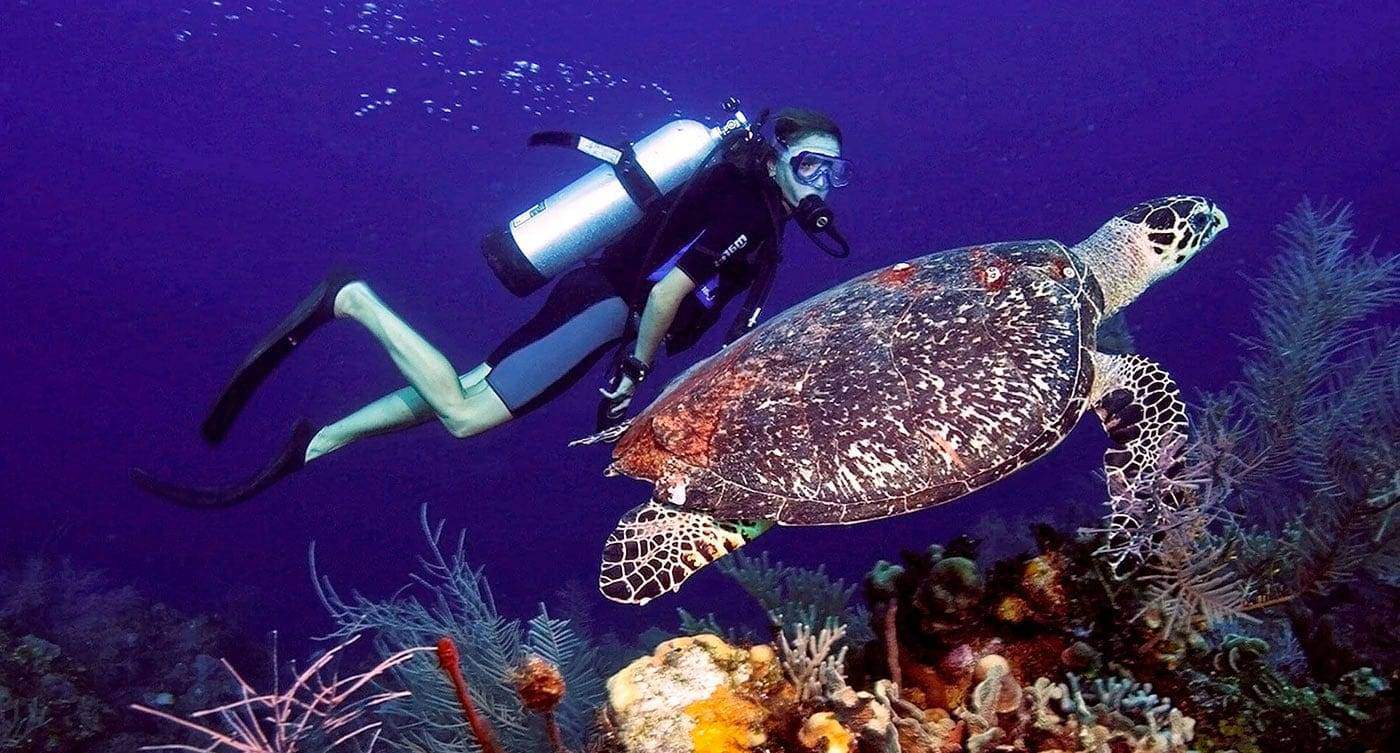 Today I would like to tell you about the advantages and peculiarities of diving in Vietnam, on the islands of Hong Mun, Nha Trang, Phu Quoc. It is also important to cover the topic of snorkeling, because Vietnam has not only excellent diving, but also snorkeling. And at the bottom of the article we have posted reviews of tourists about these places.
Anyone who has dived underwater at least once, becomes obsessed with the desire to experience these sensations again. After all, what could be more exciting than unity with the elements?
Popular among the newcomers are the overseas resorts Fiji, TurkeyEgypt, Thailand, Malaysia and the Maldives. However, divers with a lot of experience are very appreciative of diving in Vietnam, in addition – in this country it is considered one of the cheapest in the world.
Diving in Vietnam – the best places
Vietnam is attractive to divers for several reasons:
It's the only country that has dive sites almost year-round. From February to mid-October divers can explore Nha Trang, and from November to June dive the depths of the South China Sea off Phu Quoc Island. On Hoinhang Island, the diving season opens in May and does not end until October. The underwater world is diverse and beautiful.
More than a thousand species of fish with rare colors including clown fish, devil fish and other creatures. Many photographers admiringly share not only pictures and videos, but also the experience of touching the huge shells of the majestic sea turtles. In terms of diversity of coral species, the sea off the coast of Vietnam has surpassed even the famous corals of the Red Sea.
Tourists-divers can bring back from vacation not only souvenirs, but also independently found shells with pearls.
Safety is paramount. Instructors working at Vietnamese resorts adhere to international safety standards. Rental points for diving equipment can be found in almost every town on the coast.
Diving in Nha Trang – a universal option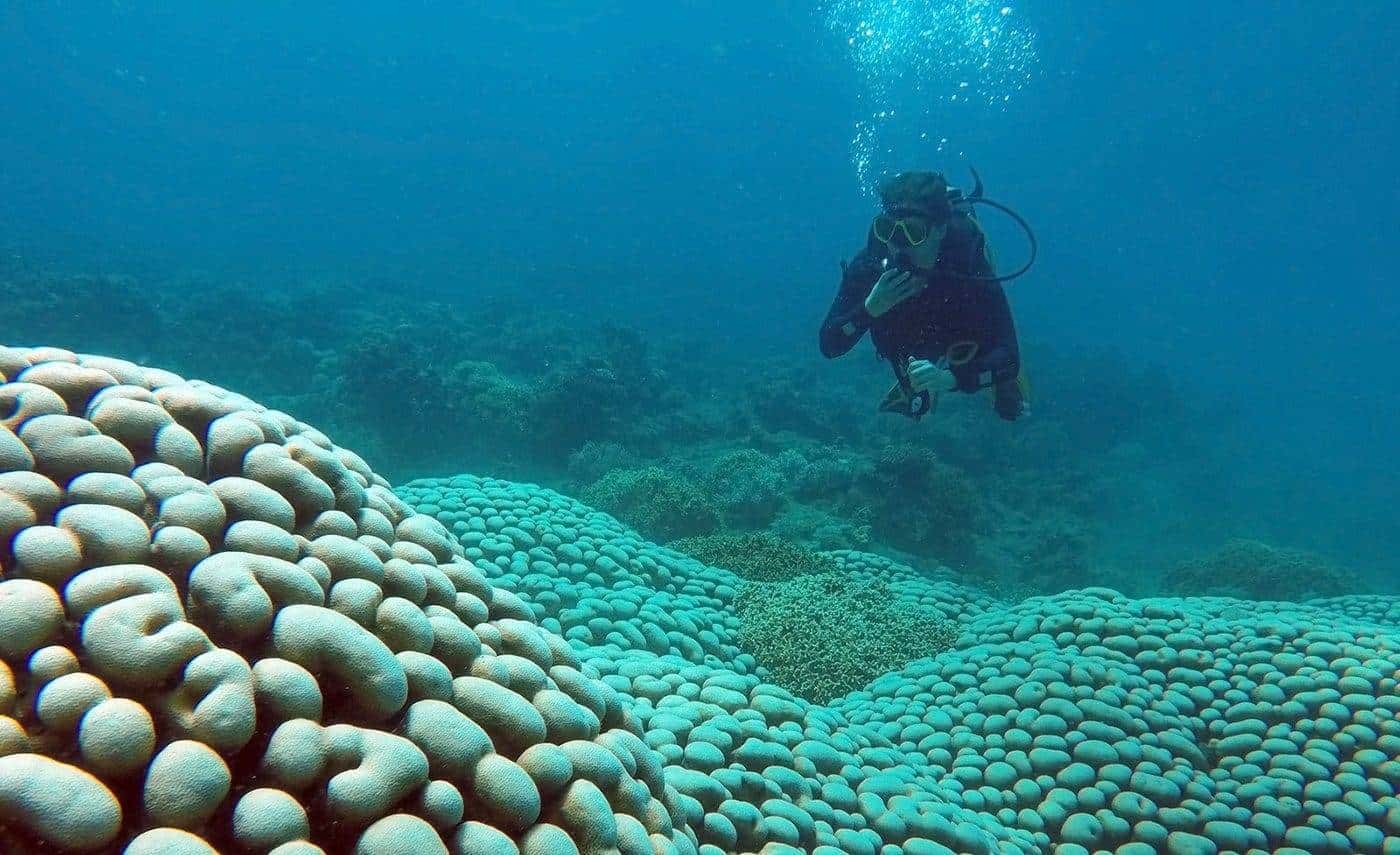 The Sea in Nha Trang, Vietnam
The depths here range from 10 to 30 meters, making Nha Trang a lonely place to dive for professionals, beginners and even children. In this case, do not necessarily dive to the bottom: even at five meters under the surface of the water you can behold a variety of underwater creatures and a riot of vegetation.
Local dive clubs offer training from scratch, followed by a PADI certificate in two versions:
Basic level – SSI; Advanced (second level) – SSI 2.
Costs an average of training from 150 to 250 dollars.
Experienced tourists from the CIS countries advise to look for Russian mentors or foreigners with a good level of English (not local) – they are much easier to explain their wishes.
It is believed that the South China area of the Philippines – this is where the first corals grew.
Divers love the beauty of the coral forest of the Muren, Goat Mountain and the caves in the Madonna Cliffs, but the last point is suitable only for experienced divers. A little further south you can find the remains of shipwrecks, which are a very memorable sight.
The best time to go to Nha Trang is from February to September. During this time the sea is calm and clear as glass (visibility is up to 20 meters!).
Hong Mun Island – home to experienced divers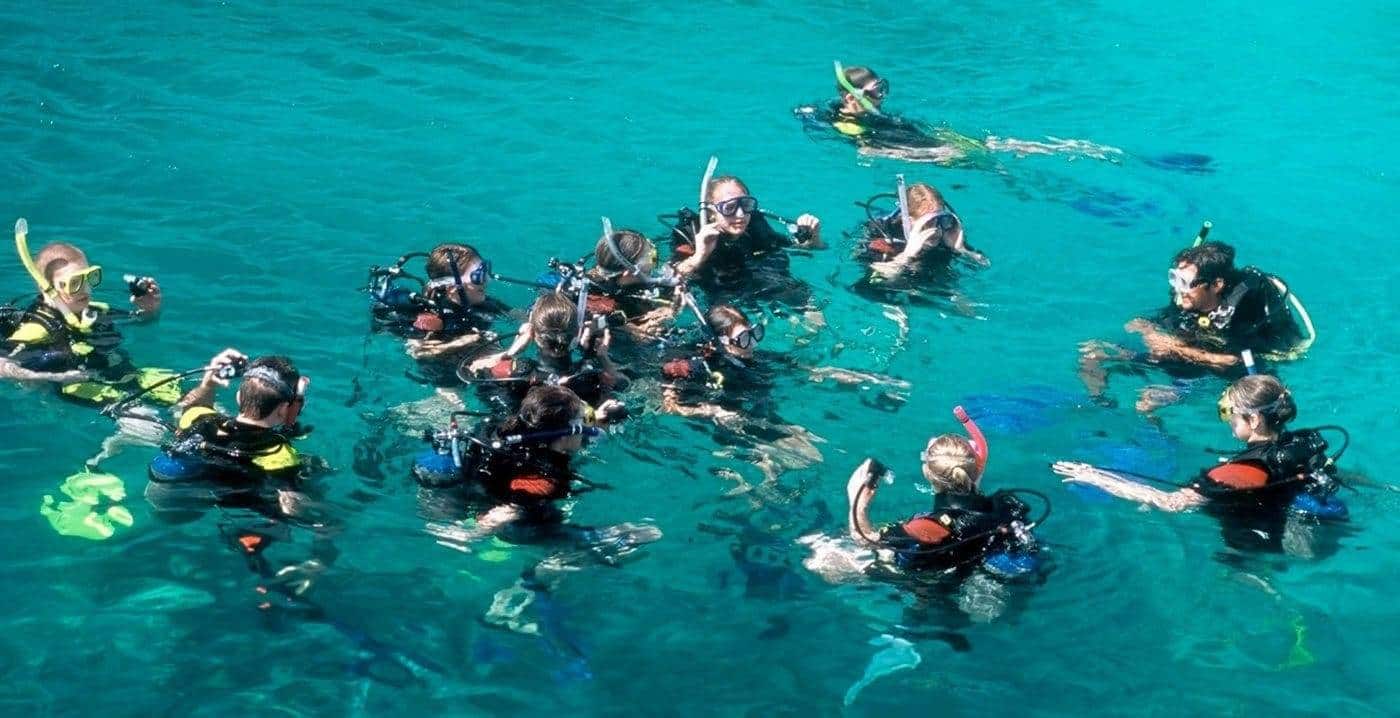 Diving on Hong Mun Island
Pristine nature, clear waters and unadulterated sea air – Mun Island is a paradise for those who are tired of the noisy entertainment industry. No hotels, beach chairs and intrusive service – just an uninhabited island, stunning clarity of water and an amazing underwater world, numbering more than 1500 sea creatures and more than 2 thousand corals.
Diving is most often done at the following locations:
"Madonna Rock";
"Mushroom Reef";
"Coral Garden".
At a depth of 15 meters dive tourists meet a colorful underwater world: stingrays, barracudas, octopuses and colorful little fish that are so accustomed to the presence of man, not scared at the sight of divers, so amateur underwater photographers get a truly unique and colorful shots.
Snorkeling (snorkeling) in Hon Mun is free. You have to pay for diving separately.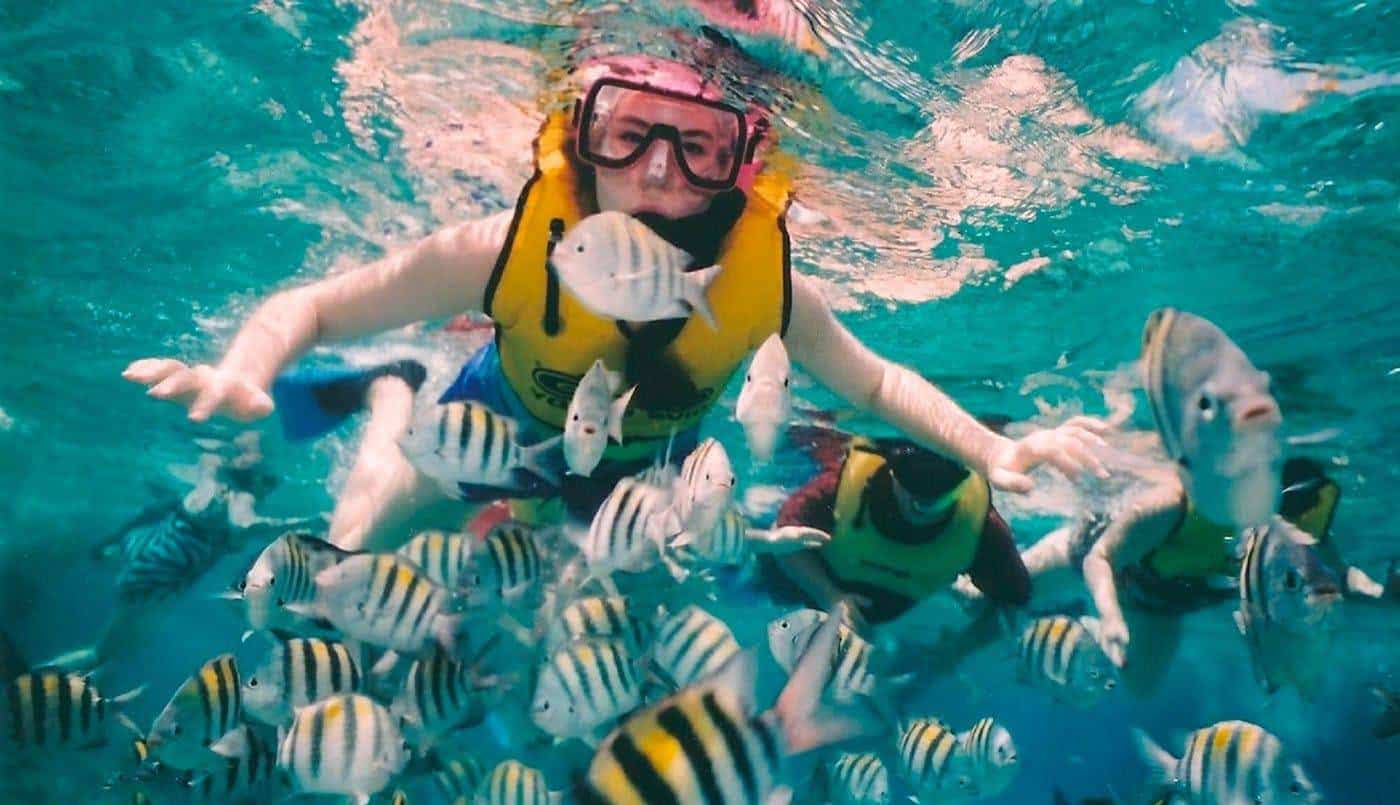 The inhabitants of Hong Mun Island in Vietnam
To get to the island you can pay for a diving tour, the final cost of which will depend on the number of dives and the duration (on average from 100 to 200 dollars). Experienced tourists are advised not to be stingy and to take a full tour with multiple dives, as there are several places near the island, where the marine nature is diverse. Such a diving tour takes the whole day, and the impressions from it are enough for a lifetime.
In addition, experienced divers can significantly reduce costs by getting to the island on their own by the following scheme:
Go to the South Port of Nha Trang. You can do it by public transportation or calling a cab. Hire a boat or boat to the island. The total cost of transportation will be about 20 dollars. It takes about half an hour to get to the island. Pay the environmental fee. When you disembark, you have to pay to enter the national park. The fee will be about $5.
Diving in Fukuoka – an ideal start for the beginner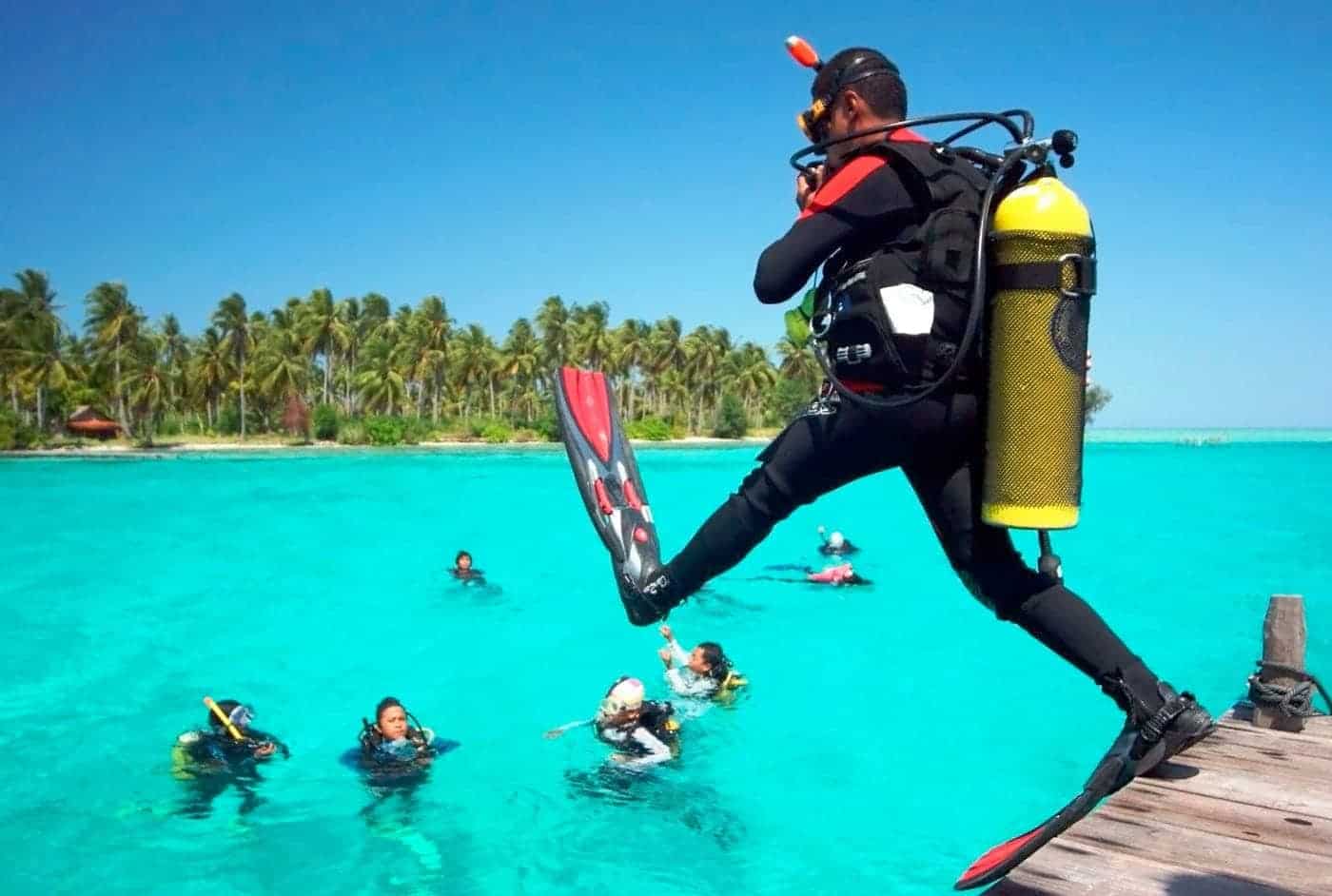 Diving in the area is not as popular as in other parts of the country, and therefore is the cheapest. Underwater visibility does not exceed 12 meters, but certified divers can dive to a depth of 40 meters.
Special demand is "Turtle Island" – this place is ideal for making the very first dive in life. Do not be deceived by the name: turtles have not been seen in the area for over seven years. Nevertheless, you will encounter bright jellyfish and colorful sea fish.
The second most popular place is Nudibranch Garden. Here you can meet a variety of underwater creatures: sea urchin, urchin fish, holodermen and grouper.
You should dive only in the designated diving sites. In the surrounding area is too strong current, which can not cope with a person without proper training.
What is Vietnam famous for?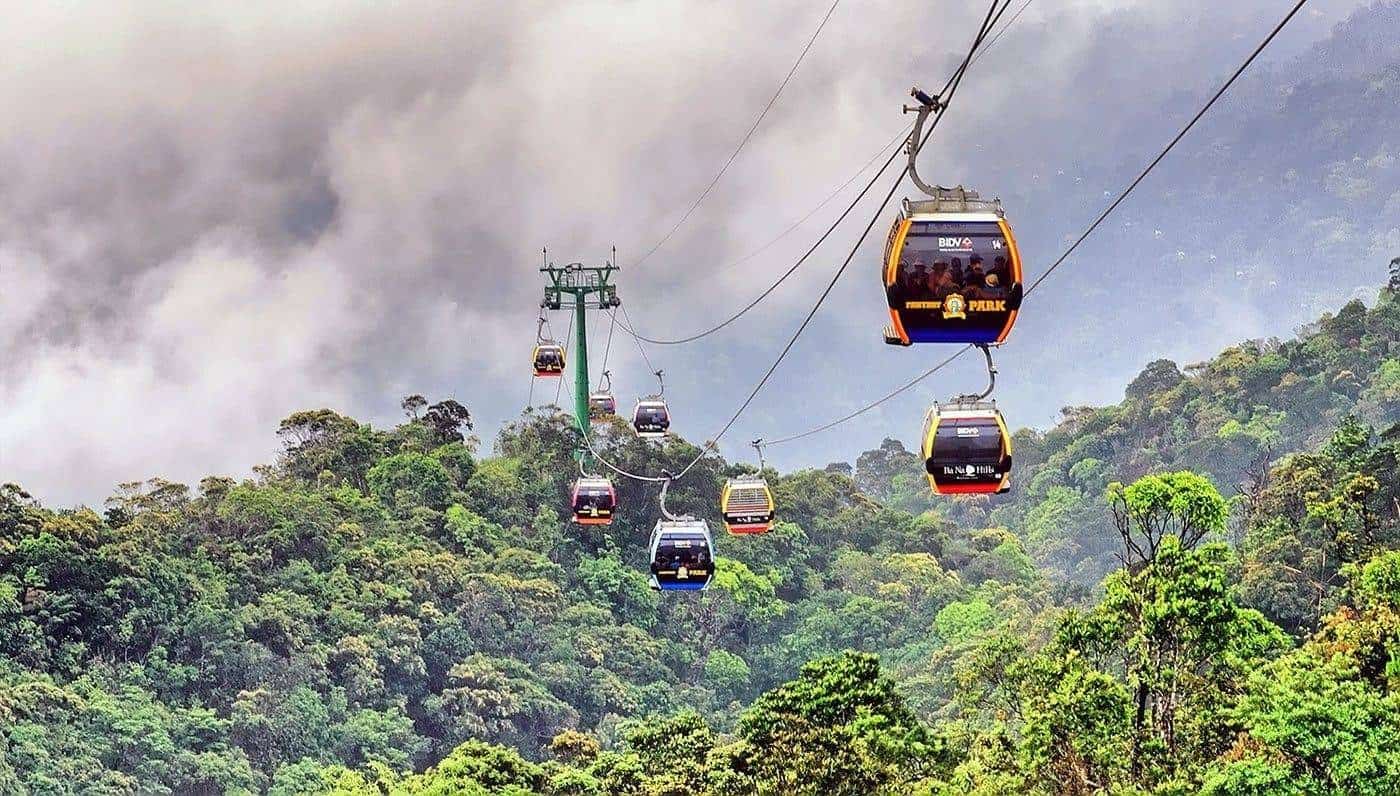 The cableway in Vietnam – the longest in the world
If you are going to visit Vietnam just for the sake of diving – take at least a few hours to get acquainted with the culture of this exalted country. We have collected 10 facts which characterize the local life in the best way:
Two wheels instead of four. The vast majority of the population travels on scooters and mopeds, with a complete disregard for personal comfort. Three people on one seat is far from the limit. Some manage to fasten on their "iron horse" bulky cargo and even transport livestock. This situation has arisen because of the lack of own car production and the high import tax. A Vietnamese with a personal car is an a priori rich Vietnamese.
The longest aerial tramway in the world. It connects Nha Trang and Hon Che. Its length is as much as 3,300 km! Currency features. Because of inflation in 1987, the dong (₫ the local currency) has fallen drastically. Even now, a bottle of mineral water will cost about 5,000 ₫, which equates to 15 rubles. Love for Russian tourists. Tourists who, when asked about their homeland, proudly answer "From Russia" are on special account with the locals.
Some even try to speak in Russian, albeit in the most common phrases. Such reactions are due to the fact that the USSR was an active aid to North Vietnam back in the days of the U.S.-Vietnam war. Growth difficulties. The average height of an adult Vietnamese is 163 cm. Accordingly, all vehicles, furniture and doorways are designed for short people.
Tourists taller than 180 meters are simply uncomfortable to move in public transport and have lunch in public places because of the fact that you have to bend over and bend your legs. Closed clothing in the heat. Do not be surprised if you meet a girl in a long-sleeved sweater, long skirt, wide-brimmed hat and gloves.
The fact is that the Vietnamese tan is considered the destiny of beggars, and pale skin is an unattainable dream. This, in fact, is successfully used by cosmetic corporations, adding whitening components to all skin care products. Selectivity in currency. Local traders willingly accept dollars, but from the euro and rubles flatly refuse.
So if you want to buy souvenirs or fruit at the market – have some cash in local currency. It is a great place for larks. Vietnamese start their day with the first rays of the sun, and finish all activities closer to 5 pm. For residents of noisy metropolises, the empty evening streets may simply be unaccustomed. Frequent tides.
Do not be surprised to lose a part of your favorite beach at high tide. On the tiny island of Vungtau there is a small temple that can only be accessed at low tide, when the only road leading to it is on the surface. This feature makes a trip to the temple more meaningful and sacred event. City with an unusual climate – Dalat. Due to its location in a mountainous area this city has a harsher climate than the others. If you plan to visit it – bring a windbreaker and pants that can protect you from the chilly wind.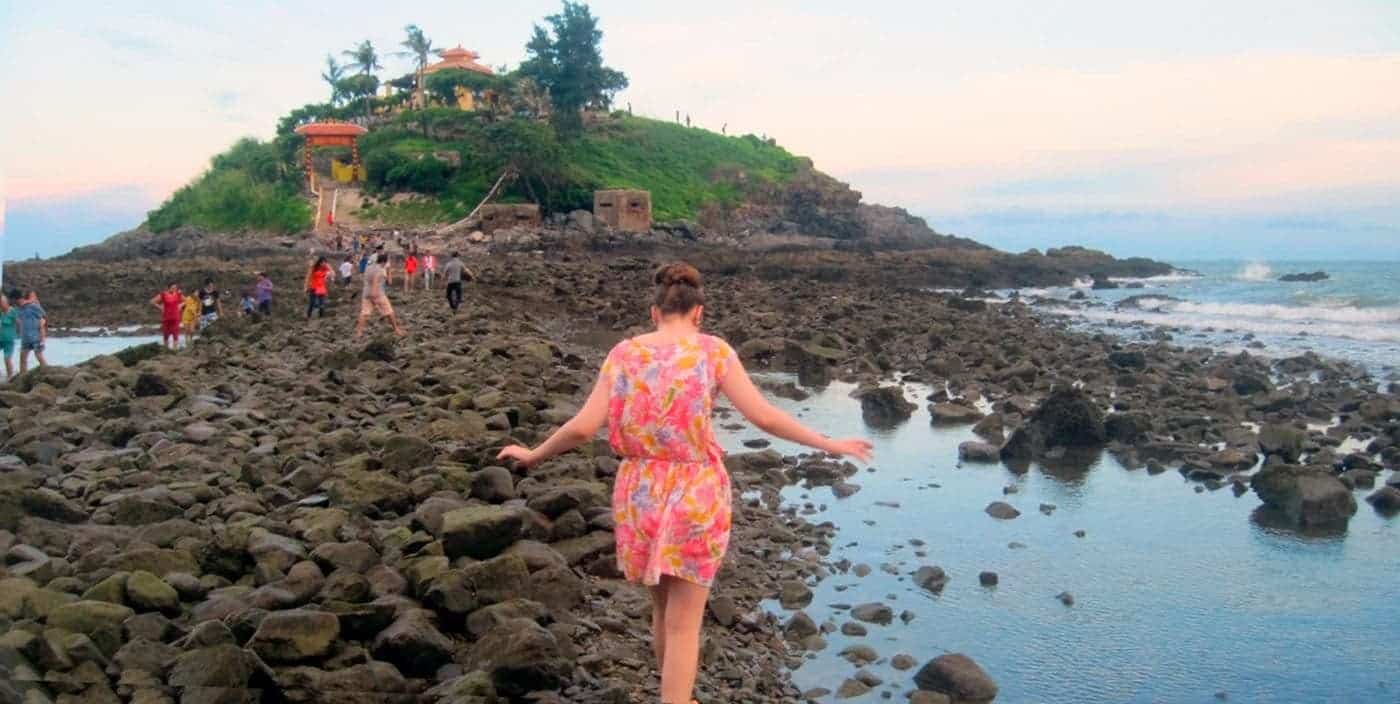 Vungtau, Vietnam
Between 12:00 and 15:00 try to stay indoors during the cooler hours. This is when the heat is unbearable and can be fraught with overheating, dehydration, and sunburn.
Snorkeling in Vietnam
Snorkeling differs from diving in that it does not require expensive equipment. All you need is a mask and a snorkel. Of course, the depth of the dive is only a couple of meters or lying on the surface of the water, but it's enough if your goal is to look at the bright corals and see the bustling flocks of small colorful fish. Consider in detail the best places for snorkeling:
Snorkeling in Nha Trang – enjoy the colorful diversity of the sea world and the beauty of the coral reef can be at the island of Hong Mun. Barracuda Cape, which justifies its name: among the colorful corals scurry striped toothy predators. Fukuok Island – a great place for those who want to stroke the shell of sea turtles and admire the fish of different sizes and colors.
Ka Ba Island (Halong Bay) – in a national park in Vietnam you can contemplate about five hundred different shellfish and more than two hundred species of fish – every meter of the underwater world is full of life and movement.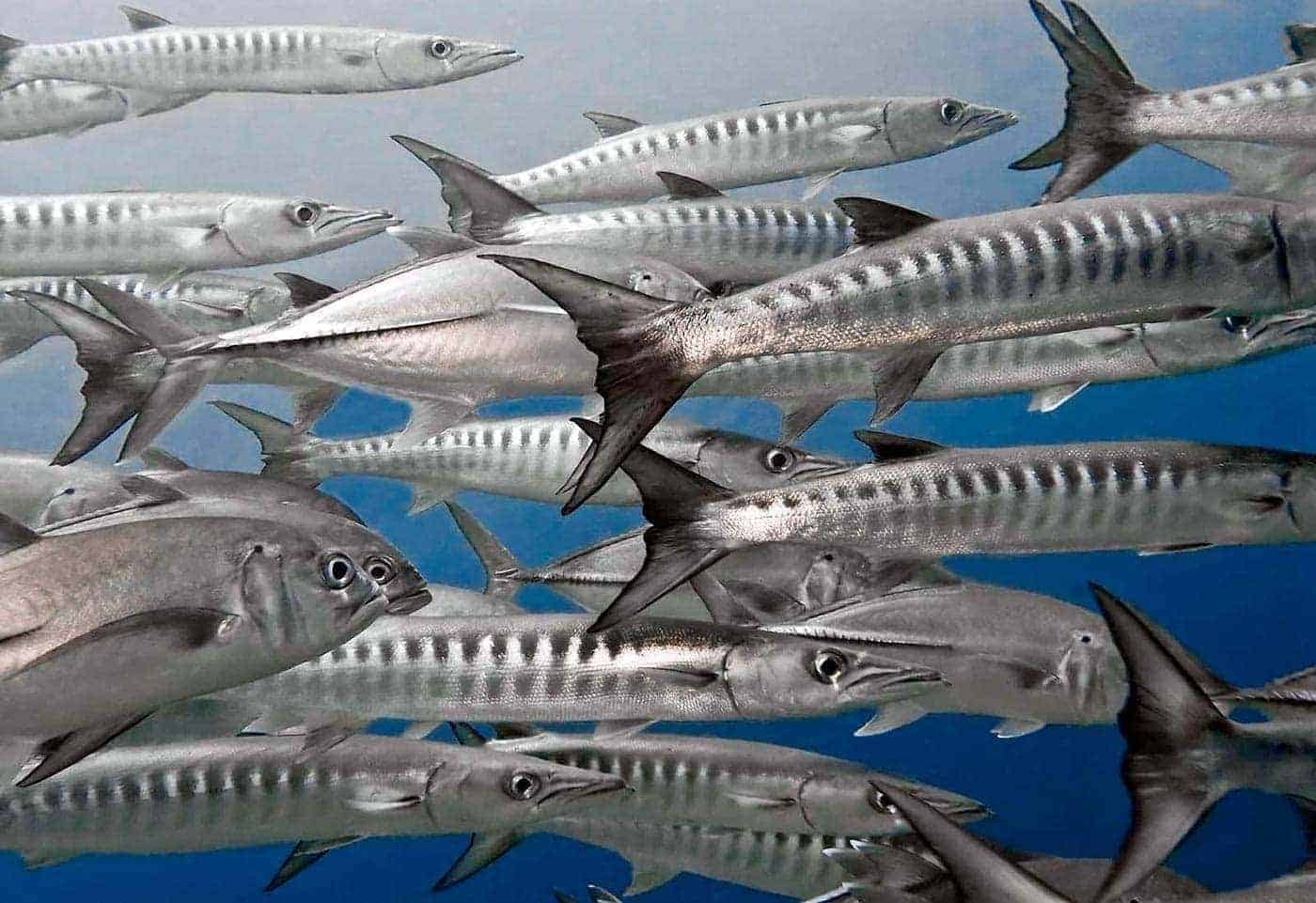 The inhabitants of the waters of Barracuda Island
If you are lucky, the diver will be able to swim in the company of friendly dolphins.
Reviews of tourists about diving in Vietnam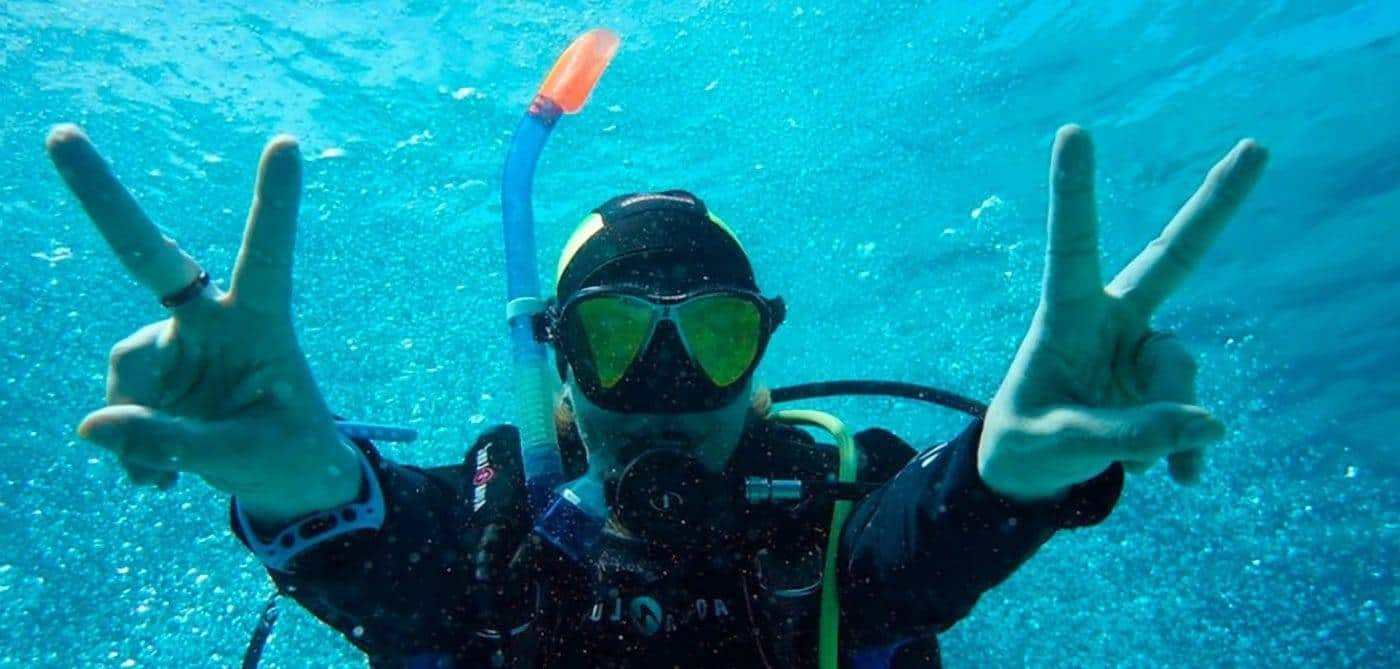 Maria writes:
"All my conscious life I dreamed of diving, and now – the dream has come true. Upon arrival in Nha Trang my husband and I first of all asked for dive sites. For the first time I was at a depth of 18 meters and did not even notice it – so clean, clear and calm the water was. All fears and worries immediately receded. I managed to take photos with a starfish.
Alexei writes:
"Every time I go on vacation I try to go scuba diving. This time I went to Vietnam with my 8-year-old son. To facilitate his first dive we took a basic course with a Russian-speaking instructor. Thanks to the lack of a language barrier and competently presented material my son easily overcame his fear of "big water" and had a lot of impressions. The views by the shores of Hong Moon Island are unforgettable!"
Roman writes:
"As one guide said: there's no more diving in Vietnam. And I agree with that. I dived at Turtle Island and there's not just no turtles, there's nothing to see. All that could be caught – is already caught and eaten. Quite a boring and sad spectacle."
Daria writes:
"Went to Vietnam with my family just for diving. Nha Trang gave us much more impressions than Egypt. Here for the first time I saw moray, winged fish, sea cucumber and starfish. The water is clear, uncluttered and warm. Even at a depth of 17 meters I was comfortable in a 3 mm wetsuit."
Catherine writes:
"Such low prices for diving as in Fukuoka I have not seen anywhere. And that's with good equipment and competent instruction in plain English. Time underwater seemed to flow faster, but maybe that's what it seemed to me, because I'm into photography.I recommend everyone to experience it!"
Conclusion
Being underwater is a truly unforgettable feeling of lightness, flight and boundless admiration. Diving in Vietnam has many advantages: it is certainly beautiful, safe and affordable!
Read More: