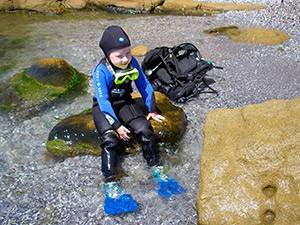 Diving is a family sport and recreation. Therefore, if the parents are involved divingSooner or later the children will come to this hobby.
And they will fall in love with the underwater world immediately, because unlike adults, they perceive everything brighter and more emotional. Seeing once amazingly beautiful sea depths, they will always return to them.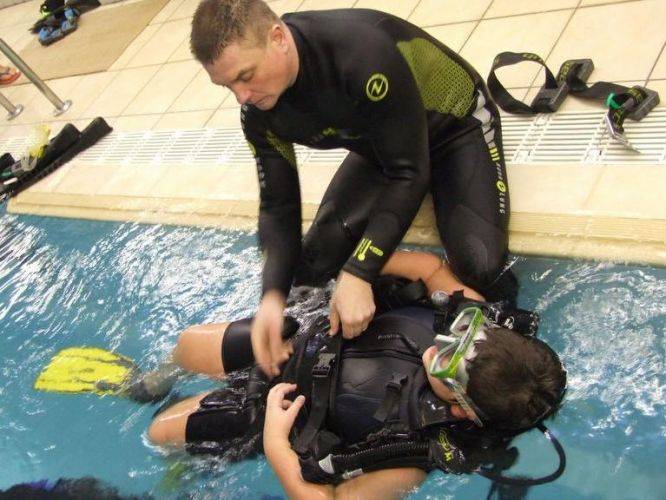 In addition, diving – is a way to educate children. Thanks to him, boys and girls train willpower, patience, calmness. They learn to work as a team. In addition, divers, like no other, protect the environment.
Teaching kids to dive
Children dive at safe depths. Children 8-10 years old are allowed down to a depth of 2 meters. At the age of 10 to 12, they can dive to 12 meters.
From the age of 14 they can dive at a depth of 18 meters. Children under 12 years of age can only dive in open water when accompanied by an adult or professional diver.
According to PADI, children can take the Junior Open Water Divers course from the age of 10. The main thing is that the child should be mentally and physically ready. The sooner a child begins diving, the more confident he will behave in the water.
A kind of "contraindications" to the diving classes are: the inability to balance the pressure, the lack of discipline. It is not desirable to engage diving Children with heart disease.
Diving for children in Moscow and St. Petersburg
In St. Petersburg there are many clubs that are engaged in teaching kids. Among them are diving club "Baltika to Kids" (teaching according to international system NDL), "Admiral Benbow", "200 bar" (teaching according to systems CMAS and SSI), "Moby Dick", "Aquahit". Natalia Levochsky has a helpful article about early swimming with toddlers., recommended.
To the children's and youth club scuba diving "Orca" take kids from 5 years, and swimming skills are not required. Teach children speed swimming in the fins, sport and classical diving, wrestling in the fins.
At the diving school "Mistral" children are accepted from 8 years old and here you can get different scuba diving qualifications – from a test dive to a diving instructor PADI qualifications. The Grott scuba diving center accepts children from the age of 10.